As a child, experiencing art typically meant going to a gallery or a museum and listening to some curator tell me why it was unique or different. In one child-sized word "Boring".
Immersive Van Gogh Exhibit in the historic Ford Building at Camp North End, presented by Lighthouse Immersive and Blumenthal Performing Arts, was anything but boring!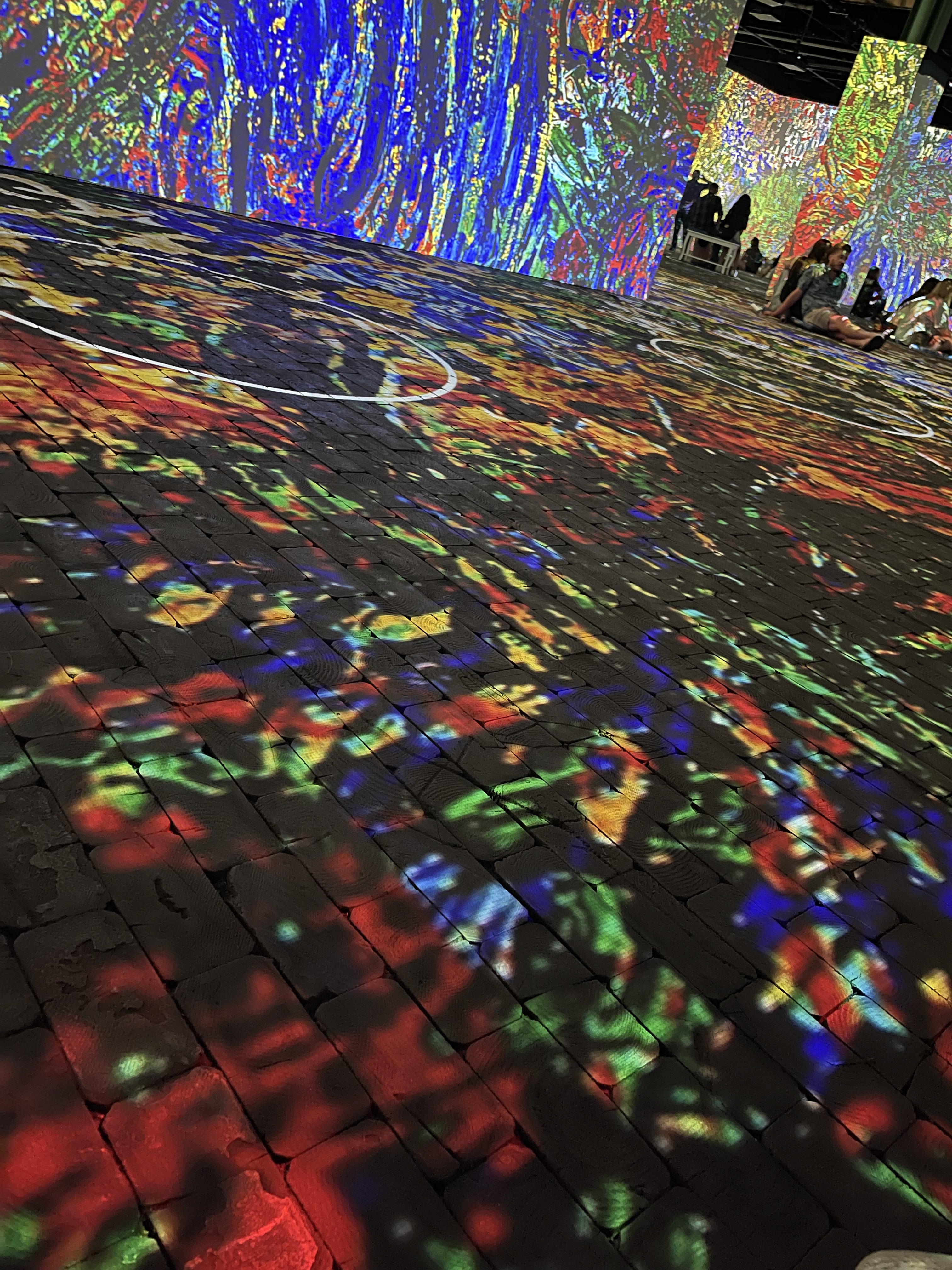 We attended the show with 2 other MacKid publishers, with 6 Children in total ranging from 5 to 18 years old. Each child, while totally captivated by the magnitude and creativity of the show, was able to experience the art differently and yet, jointly. The same held true for us parents.
Upon entering the exhibit, you are greeted by several giant, fantastical sunflowers made by a variety of artists using unique materials. The warehouse floor was laid using upcycled wood to help showcase the artwork in a fully immersive environment; and because the space was originally used as a Model T factory, as you enter the main show space, there is an original Model T - painted with Van Gogh's sunflowers, that you can experience.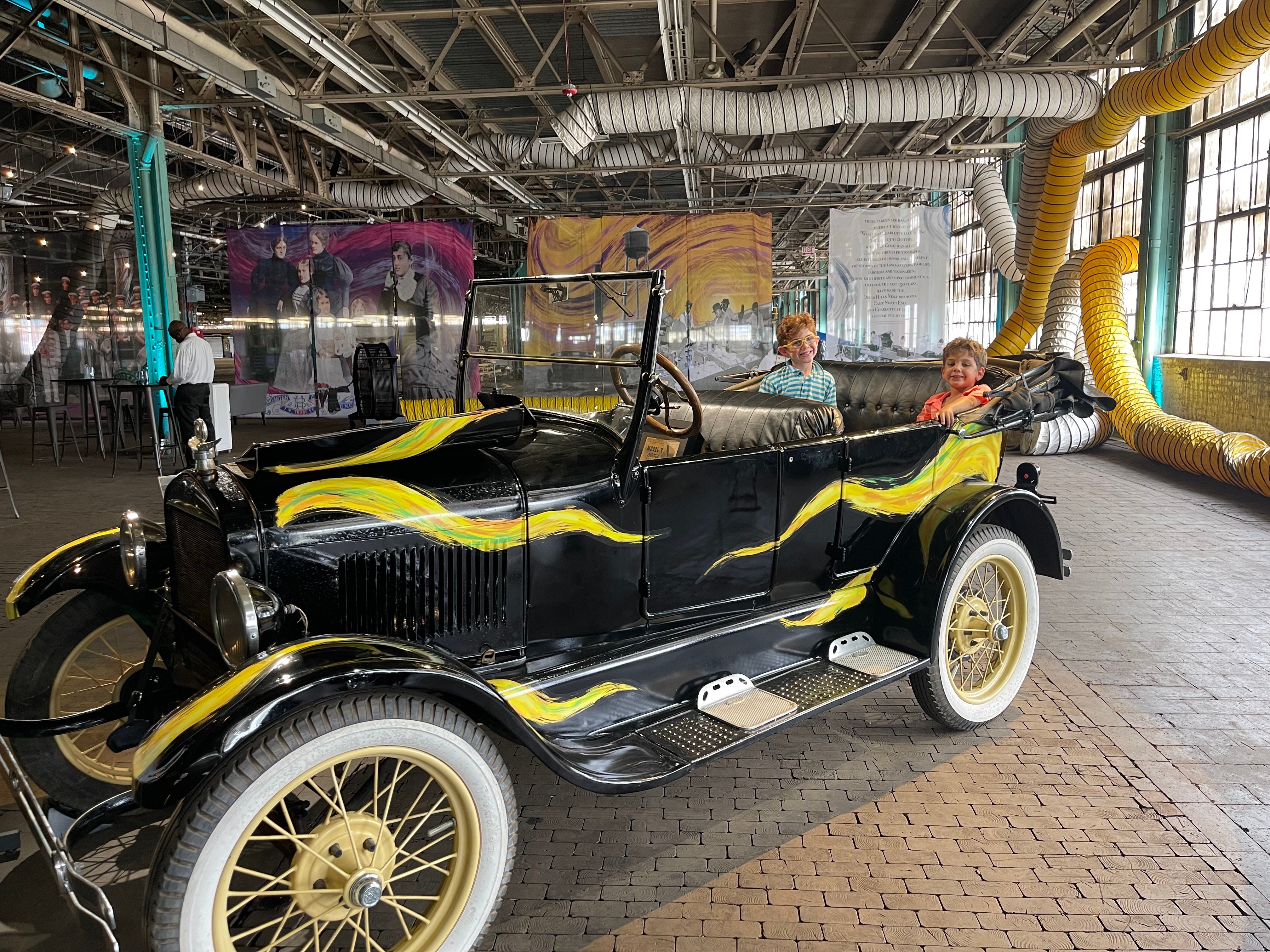 Once inside the massive 500,000 cubic foot space, you are transported into Van Gogh's works - the artwork seems to come to life on the walls and floor as you sit on benches or socially distanced spaces on the floor. While art is projected 360º around you, a beautifully compiled soundtrack plays to help evoke emotions with each piece.
A few things to note about the 30-minute show:
Tickets begin at $39.99 for adults and $24.99 for children; there are timed entries and upgraded packages that provide you with greater flexibility for arrival times.
The warehouse is not air-conditioned and on hot days, it can be warm.
While there are benches in the space, most people sit on the floor, so dress accordingly! There are cushions available with the VIP Flex tickets, otherwise, you may want to bring something to sit upon.
It is also loud. For some, this isn't an issue, but for children with sensitive ears or for babies - yes, you can certainly bring a baby - you may want to have noise-blocking headphones.
The immersive experience is 30 minutes long, however, you can stay longer if you want.
Beyond the show itself, you can visit the cafe located within the gallery space, featuring food and beverages from Camp North End restaurants and food purveyors and experience the gift shop featuring apparel and home decor. Also of note, the exhibit has partnered with local resident artists who are creating their own masterpieces every day at the show. Their oeuvres are available for purchase, and it is an incredible opportunity for you (and your children) to watch them work.
If you are looking to make this a day-long experience, we'd recommend walking around Camp North End and taking in some of the other experiences available there. From the unique shops and eateries to the unique murals, there are plenty of places to hang with the family including the Camp North End Beach and a shaded area with industrial-sized swings and games.

About Immersive Van Gogh:
The installation includes the Mangeurs de pommes de terre (The Potato Eaters, 1885), the Nuit étoilée (Starry Night, 1889), Les Tournesols (Sunflowers, 1888), and La Chambre à coucher (The Bedroom, 1889), and so much more. The show was designed and conceived by Massimiliano Siccardi and is presented with a soundtrack by Luca Longobardi, who both pioneered immersive digital art experiences in France.
About Blumenthal Performing Arts:
Blumenthal Performing Arts serves the Carolinas as a leading cultural, entertainment and education provider. For more information, call (704) 448-2566 or visit BlumenthalArts.org. Blumenthal Performing Arts receives operating support from the Arts & Science Council and North Carolina Arts Council. Blumenthal Performing Arts is also supported by PNC Bank, sponsor of the PNC Broadway Lights.
About Lighthouse Immersive:
Founded in 2019 by Toronto-based producers, Corey Ross and Svetlana Dvoretsky and Toronto-based developer – Slava Zheleznyakov, Lighthouse Immersive is the first experiential entertainment multi-plex, aiming to cultivate community and creativity through large-scale events and exhibitions of all art forms.
With locations in Toronto, Chicago, and San Francisco, Lighthouse Immersive offers versatile spaces for creators to present their work, while engaging audiences around the globe in unique art experiences that encourage dialogue and inspire new artistic creations.