One of the best parts of living here in the Charlotte area is how easy it is to get to some pretty fantastic state parks. And no matter how old your kiddos - or even if you have them - there is something for everyone. Since the onset of COV19, people have been doing more and more outside with those they love, and our family is no different. We'd heard that DuPont State Recreational Forrest was amazing and, without sports or birthday parties to contend with, we were finally able to hop in the car to check it out.
The DuPont State Recreational Forest is located in the Blue Ridge Mountains between Hendersonville and Brevard, North Carolina. Its 10,400 acres of forest feature four major waterfalls on the Little River and several on the Grassy Creek. The original 7600 acre forest was established in 1996 through a sale from the DuPont Corporation. In 2000, the Forest was expanded by two property additions, including the 2200 acre tract in the center of the Forest containing High Falls, Triple Falls, and Bridal Veil Falls.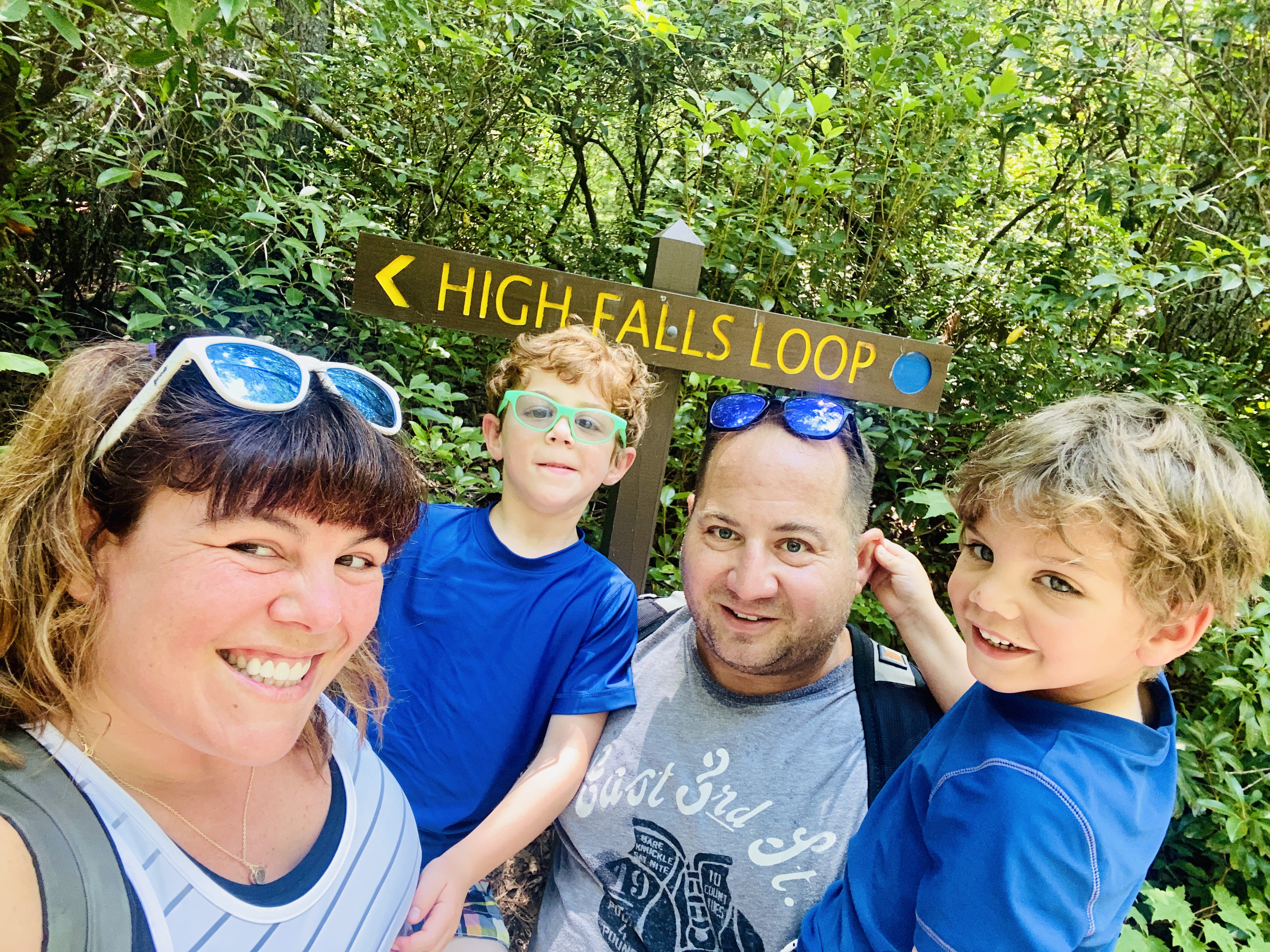 Our original intent was to check out Hooker Falls - a small waterfall that flows into Cascade Lake. But, forgetting it was July 3rd (oops!), the parking lots were FULL and we were unsure of our ability to safely distance from others. So, we drove up the mountain another 5 - 10 minutes and found parking near the High Falls Access point. If you'd like to take a look at the various trails, you can click HERE for this map provided by Friends of DuPont Forest.
The bathrooms are closed, for now, due to COV-19, but there are porto-potties at the parking entrance as well as some areas for groups to congregate and meet up. We found that most people were respectful of distance and wore masks when in larger groups, though not everyone. Once you were on the trails, however, it was easy to distance and the masks were unnecessary.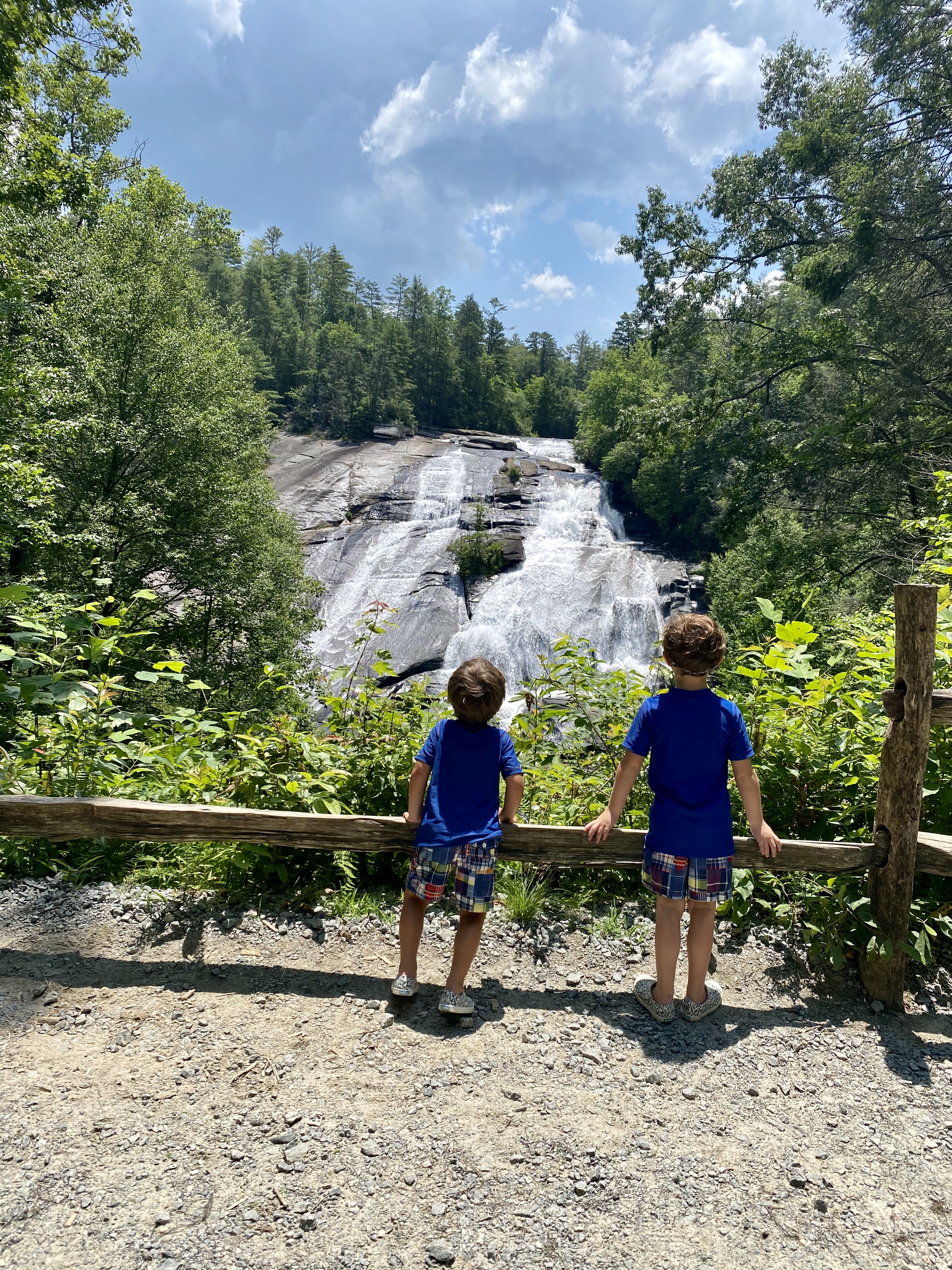 The hike itself was a super easy .6 mile loop in one of the most gorgeous landscapes I've seen. Unique trees and beautiful flowers lined wide and easy to navigate tails. Because trails are shared between pedestrians, equestrian and bicycles, you do need to keep an eye out for poop and fast-moving mountain-bikers, but we really didn't see many (if any) the day we were there! We chose to skip the covered bridge because the kids were anxious to play in the falls (though it looked amazing from the bottom of the falls). Instead we headed straight to the base of the falls!
If you don't have water shoes, get some before this trip or plan to junk up your sneakers. The rocks are slippery and uneven - as to be expected. We wore our natives and they served us just fine. Since the walk isn't too rigorous, you could easily wear a hiking sandal for the day. Personally, I prefer closed toe shoes (natives or Keens) because I'm clumsy and bang my toes often!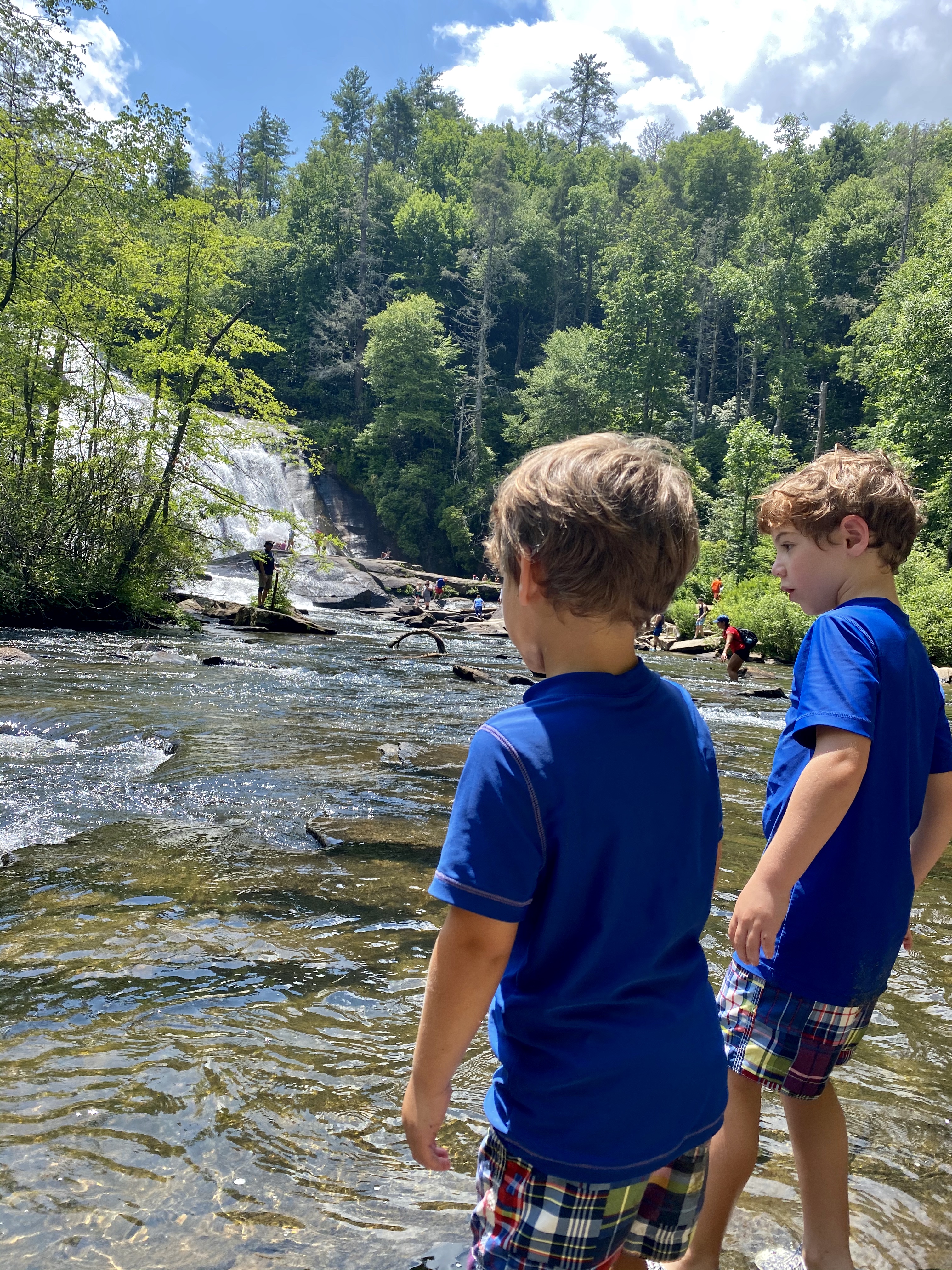 Once down at the High Falls basin, the entrance to the actual falls is narrow before it opens up and you can spread out. We threw on our masks one last time before heading out into the rocky water. Again, though, people were very respectful and gave you space to move about.
We brought some snacks and found a good place to settle in and leave our packs, ate a bite and then just splashed and climbed for about an hour and a half before heading back up the trail to the car. Had it not been July 3rd, we would have also checked out Hooker Falls - as it provides for a much better "swimming hole" than High Falls had. The base of High Falls was too rocky and the current too fast for my young swimmers to play safely. Bigger kids - and many adults - found spot to the far left of the falls where they could climb and slide. It looked really fun, but was not appropriate for our young (4 and 6yr old) kiddos.
Here are some facts about DuPont Recreational Forest before you go:
6 different waterfall areas including:

Hooker Falls
Bridal Veil Falls
High Falls
Wintergreen Falls
Grassy Creek Falls
Triple Falls

2 Ways to cross into the forest over the falls:

Covered Bridge
Corn Mill Shoals

3 Lakes

Lake Julie
Lake Alford
Lake Dense

Long Hikes:

Stone Mountain
Bridal Veil Falls

Shorter Hikes:

Hooker Falls
High Falls
Triple Falls

Great for Biking:

Cedar Rock Mountain
Corn Mill Shoals
For more information on DuPont State Recreational Forest, visit the NCFS website HERE or Friends of DuPont Forest HERE