Sure, you see your dentist once a year - maybe twice a year if you are really diligent. Your kids lay there, with their mouths open, and if they're younger, you sit and chat with their dentist. But how much do you really know about your dentist?
Dr. Bevin Malley is the owner and founder of Carolina Kids Dentistry, a pediatric dental practice with offices in Mint Hill and Waxhaw. She opened the Mint Hill office in 2010 to provide dental care to children in an inviting atmosphere in a community that did not have a pediatric dentist. The Waxhaw office only just opened 2 years ago. Through both offices, she and her team strive to create positive dental experiences so that her patients can grow with healthy, happy smiles.
Her practice was designed with children being the main focus from the bright, inviting colors on the walls to the video game room in the tooth-brushing area. The office has a nice, open feeling that is non-intimidating and allows kids to be kids. She believes in the importance of creating positive experiences from the start in regards to dental health. She finds it rewarding when patients are eager to see the dentist and want to continue to come back every six months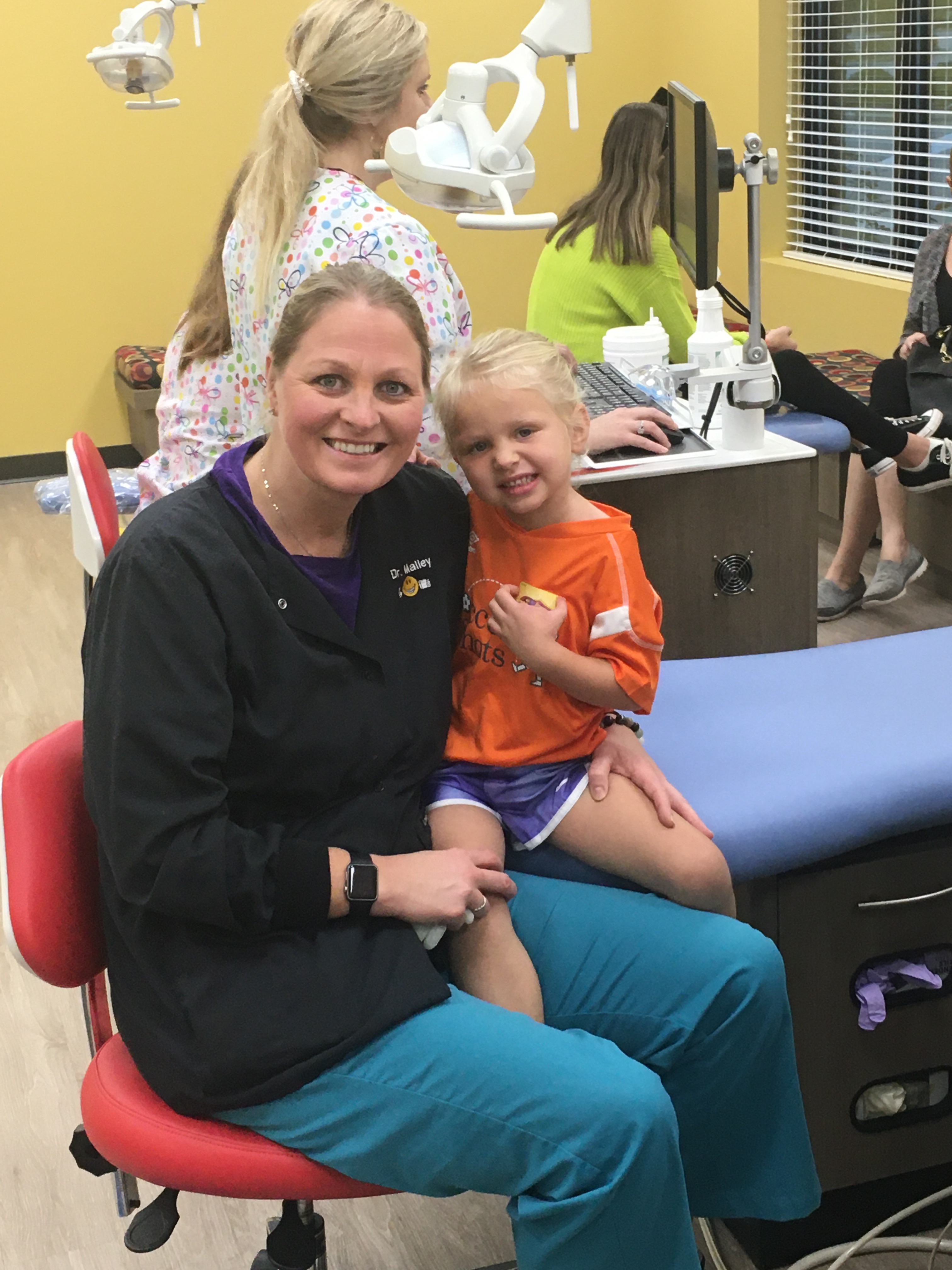 How long have you been a Pediatric Dentist?
I've been a Pediatric Dentist for 16 years.
What do you love most about what you do?
I love seeing kids enjoy coming to the dentist. It's natural for very small children to have a little anxiety for their first appointment but it's so rewarding to see their confidence build and have a smile on their face by the end of the appointment.
What is the toughest part of your job?
One of the toughest parts of my job is making sure parents understand the importance of baby teeth. One of the most common misconceptions in dentistry is "baby teeth don't matter because they will fall out" . The problem with this statement is that 12 of the 20 baby teeth do not fall out until the average age of 10-12 years old or sometimes even later, and these teeth are the foundation of function for many years. It is also fairly common to be missing a permanent tooth ( the permanent tooth bud does not develop). In this case, the baby tooth needs to function as a permanent tooth and the health of this baby tooth is critical. We also start to develop permanent molars by the age of 6, so by age 6-8 it is normal to have 12 baby teeth and 12 permanent teeth present in the mouth.
Tell us about Carolina Kids Dentistry?
Carolina Kids Dentistry is a pediatric dental office that specializes in treating children and young adults as well as patients with special needs in a friendly, caring and inviting atmosphere. Our amazing staff and doctors want to ensure that each patient has a wonderful visit and we strive to instill a positive relationship with the dentist. We have two office locations in Charlotte, one in Mint Hill and one in Waxhaw. For our very anxious or nervous patients that require dental treatment, we are able to provide options for treatment to include nitrous oxide as well as options for sedation dentistry. Our website, www.ckdentistry.com ,is also a great resource for additional information about Carolina Kids Dentistry including information on all of the services our office provides as well as more detailed information about our doctors and staff.
What is one thing you wish parents knew before seeing you? One thing I would like parents to know is that I approach each patient's case as if they were my own. As a parent myself, I am going to make the best recommendations for the care that is needed based on the care I would give my own child. I truly love what I do, and it is very important to me to instill a positive and healthy relationship for children and young adults with visiting the dentist so that we can establish a lifetime of good dental health.
If you weren't a dentist, what would you be?
This is a good question!! From the time I was very young, I always knew I wanted to do something in healthcare. I fell in love with dentistry when I worked as a dental assistant during my college years. If I didn't work in dentistry, I would probably be involved in healthcare in some way as a nurse, doctor, or consultant.
Tell us about your family and off-time?
I enjoy spending time with my husband and 4 year old daughter. On weekends, we love spending time together going to the beach or just hanging around at home with friends. We enjoy watching our daughter participate in soccer and tee ball, and we are big Ohio State fans!!
Carolina Kids Dentistry is located at 9817 Suzanne Ct., Waxhaw NC 28173 / (980) 339-8720